Knights of Qwert
Created for the Brackeys Game Jam 2021.1 - All Code, 3D Models, Sprites (Images), Music, and SFX were created from scratch within the game jam's 1-week time limit.
Controls
- Use QWERT keys to attack.
- Use Left/Right Arrow Keys to move.
- Use Space Bar to trigger power ability.
Credits
Tyler Green - Code, Images (www.youtube.com/TylerGreen)
tutmo - Code, SFX, Music (www.youtube.com/tutmo)
Jenny - 3D Models, Images
Tools
Game Engine - Unity
Music/SFX - FL Studio
3D Models - Blender
Sprites/Images - Photoshop & Procreate
Font - dafont.com/alphakind.font
Watch tutmo's take on how it was made:
Watch Tyler's devlog:
Install instructions
For Windows Users:
1. Click the Windows download link on this page.
2. Once downloaded, unzip/extract the folder.
3. Find the file with a knight icon (.exe) and click it to launch the game.
For Mac Users:
MacOS Catalina will most likely block the game from launching if you download using the link on this page. Instead, use the official itch.io Installer App.
1. Download the itch app - https://itch.io/app
2. Search for "Knights of Qwert" in the itch.io App.
3. Click 'Install'.
4. Click 'Launch'
For Linux Users:
1. Click the Linux download link on this page.
2. Open a terminal emulator and go to the directory where the file KnightsOfQwert_Linux.zip is located (normally cd ~/Downloads)
3. Unzip the folder (unzip KnightsOfQwert_Linux.zip)
4. Go to the new directory (cd KnightsOfQwert_Linux) 5. Run the game with .KnightsOfQwert_Linux.x86_64
Comments
Log in with itch.io to leave a comment.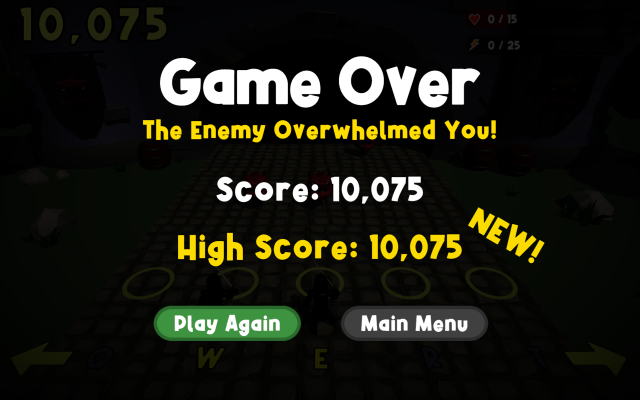 Awesome game! Very addictive.

Wow! I play tested this game for many hours and my best score was around 3.5k. You crushed that!!
Solid game guys! I'm addicted!